Due to the fact that Easy Anti-Cheat protection is currently running in many of our projects, some players may encounter certain technical problems when starting the game.
Contents:
Troubleshooting
1. Check that the used antivirus is compatible with the Easy Anti-Cheat protection system and add the folder with the protection system to the exceptions list of your antivirus. You can find more detailed information on compatibility, as well as guidance on making the security system an antivirus exception, here: https://www.easy.ac/en-us/support/game/guides/antivirus/
For War Thunder:
Add EAC to your antivirus exceptions.
Uncheck the EAC in War Thunder, restart the client and check the box again.
2. If you use an Nvidia graphics card, make sure you have the latest drivers for the graphics card installed. You can find and download them at this link: Download Nvidia drivers. If updating the drivers did not help or you use a video card from another manufacturer, then follow these recommendations:
3. Go to the directory of the game and run EasyAntiCheat_Setup.exe as an Administator. Then, choose the game in the list and click the 'Repair' button. After it finishes, you may close the window and try to launch the game.
4. Make sure, that the Easy Anti-Cheat service is not disabled.
To do that, execute the 'Run' command in the Start menu (or just open the 'Start' menu, if you're using Windows 10), type there services.msc and hit 'Enter'.
In the window you need to find Easy Anti-Cheat and check, whether the Startup type is set as 'Manual'. If not, please, right-click the Easy Anti-Cheat line, then click 'Properties' and change the 'Startup type' to 'Manual'.
5. Install all available Windows updates, as well as the Visual C ++ 2010 and 2015 Redistributables service packs. Visual C ++ Service Packs can be found HERE.
6. Check for problems by performing a clean boot of your computer, but make sure that Easy Anti-Cheat servide remains enabled.
You can this article to perform said actions:
https://support.gaijin.net/hc/en-us/articles/200527662
7. If you're experiencing the '30007 error', then most probably the Driver Signature Enforcement (DSE) service is disabled in your system, however this servise is necessary for the Easy Anti-Cheat system. DSE is a security mechanism for 64-bit versions of Windows (forcibly checks the program signing certificates for all loadable kernel mode drivers). In order to enable this service, follow the instruction below:
Press Start(Windows) button
type cmd in the search or Run box, press Enter
in the command prompr enter these lines:

bcdedit -set TESTSIGNING OFF , press "Enter"

bcdedit -set NOINTEGRITYCHECKS OFF , press "Enter"
Reboot your PC in order to apply the changes.
8. If you're experiencing the "The application was unable to start correctly (0xc0000142). Click OK to close the application, Untrusted system file: Windows\System32\dbgcore.dll" or other "Untrusted system file" errors, it indicates that a system DLL is blocked from loading because it was detected to have been modified. This means that the original system DLL contains some foreign injected code that cannot be allowed into the game process memory space. To resolve the system DLL related errors, use Windows Update. An update to the latest Windows version should resolve the issue.
Known software conflicts
At the moment, we are aware of conflicts with Asus Aura (LightingService.exe executable) and GIGABYTE RGB Fusion. Disable said program(s) for the game to work correctly. If a generic hacking tool error occurs, uninstall Sandboxie, it causes this error in most cases. There may also be problems with custom hangars installed. Make sure that you are using the game client without any custom modifications.
Possible causes of an interrupted session due to EAC
Authentication timed out (1/2) или (2/2) - The game client has been launched without enabled EAC, in a session where EAC is required.
Integrity check - A modification of the game data detected. Check files integrity in the launcher's settings.
EAC sandbox not active (dummy client) - EAC anti–cheat module loading error. Possible network configuration issues on user's side, or ISP.
Banned - The player has been banned in EAC system. Please contact EAC Customer Support.
You can find a Player ID of your account for submitting it to the EAC support service on your profile page on our website: Settings -> Account protection. It is displayed in the address bar of your browser: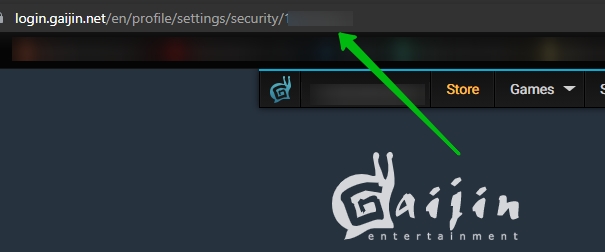 Also report the problem to the Customer Support service: https://support.gaijin.net/hc/en-us/articles/360000262858
Thank you for your patience!