Dear players,
Due to the high volume of current requests, we stop accepting transfer requests until further notice. Thank you for understanding.
It is possible to transfer your PlayStation account to PC version of the game. As a result of this procedure, you will have 2 separate accounts - original one that you can still use from the console (but can't use in PC version anymore), and another fully fledged PC-account with no restrictions for using Gaijin Store etc. In-game progress will be saved at the moment of unlinking and after that will be no longer be shared and will become independent on each platform.
Prerequisites:
1. For technical reasons, we do not offer the unlinking for accounts that also played PC versions of our games (Crossout, CRSED, Star Conflict). If you are willing to sacrifice your progress/purchases in PC versions of those titles, inform support about this in your request.
2. The account should have a linked and verified e-mail. The following article will help you to link the e-mail to the account: PlayStation account email linking.
You can verify the e-mail at the User Profile page on the website of the game: User Profile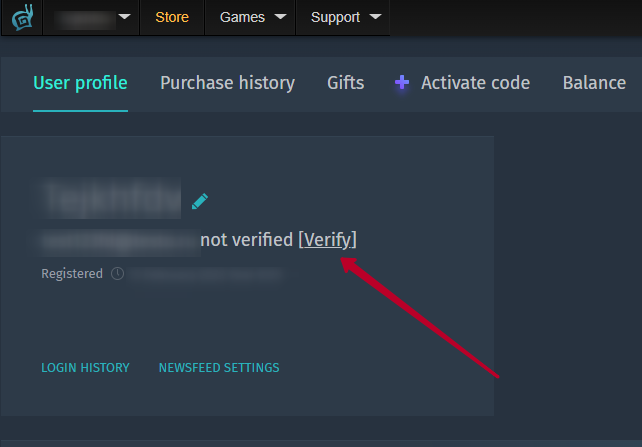 Otherwise you won't be able to reset your password and enable 2-step authorization once the unlinking is complete.
Please note, if you do not have access to the account's e-mail address, you would need to contact our Customer Support service: How to create a support ticket, also take a look at article about linking an additional e-mail login to the account: Additional e-mail addresses binding.
3. You have to leave your squadron if you are a member of any. You will have to enlist back to it once the unlinking is finished.
Keep in mind:
1) You will no longer be able to access the original PlayStation account on PC version, or link an e-mail as a login.
2) You will be able to access the account on the console version of the game, but it will be separate from your transferred account on PC.
3) Golden Eagles balance won't be transferred. So it is advised that to spend any Golden Eagles left on the original PlayStation account before initiating the the transfer.
4) Premium account, and Golden Eagles, included in PlayStation Store packs, are not transferred. Only vehicles will be transferred (with the exception of PlayStation Store A-26 Invader).
5) All "market" inventory items, such as unused vehicle and skin coupons and trophies, will remain on the original account. If you want to keep the content provided by those items on new PC account, you have to consume them before transfer. But boosters, wagers, orders, discount coupons etc will be transferred to new account.
6) Your controls settings will be reset. Save your controls presets into a file while in PC version with your existing account, so you can import them later with a new one: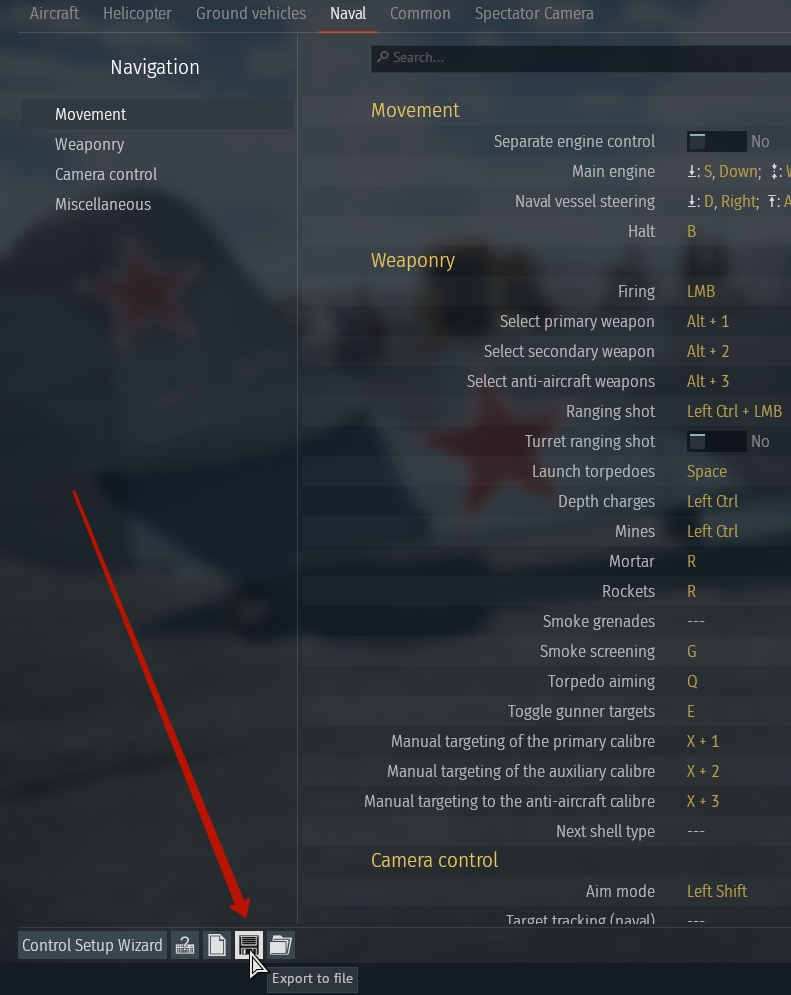 7) All vehicle presets will not transfer to new account, the following article will help you recreate them: How to use Vehicle Presets
8) The transferred account won't be a part of any squadron, and, if you are already a member of some squadron, it will be necessary to leave it, but after transfer you can join the squadron again.
9) Squadron vehicles research will be saved on a new account except for the last 3 days. To continue research, you will have to join squadron again.
10) The linked e-mail will be used as the transferred account's login. You can find it at the User Profile page on the website of the game: User Profile.
11) Friends list will be reset, you will have to repopulate it.
12) It's a one-time, one-way offer. It is not possible to link the accounts back again.
If you agree with all of the above, please, spend any Golden Eagles left on the account, make sure that you left the squadron, and consumed any needed "market" inventory items. Then submit a new ticket to our Customer Support service, with the title "Unlinking PSN account": How to create a support ticket.
Please note that the account will be frozen during the transferring process, and, if you were planning to make any purchases on the account in PlayStation Store, make sure to complete them before submitting the request. The average transferring process time may take up to 2 work days, but may change depending on the workload, so keep in mind that the daily login counter progress may be lost, if the process will take more time.
The daily login rewards system will rollback your reward to one day if you did not sign in for one day. If you missed two days, the rollback will be made to the last big reward. If you missed three days or more, the daily login counter will be reset.